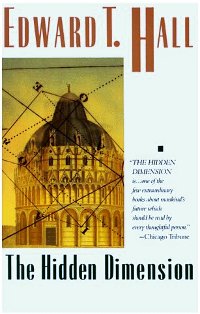 UPDATE: Thanks everyone – 10 participants in just a few hours! The study's closed now – congratulations to Ville Hjelm whose book is now on its way…
If you've got a few minutes spare, are interested in the Design with Intent techniques, and fancy having a 1/10 chance of winning a brand-new copy of The Hidden Dimension, Edward T Hall's classic 1966 work on proxemics (very worthwhile reading if you're involved in any way with the design of environments, either architecturally or in an interaction design sense), then please do have a go at this quick card-sorting exercise [now closed].
It makes use of the pinball / shortcut / thoughtful user models I introduced in the last post, so it would probably make sense to have that page open alongside the exercise. The DwI techniques will be presented to you distinct from the 'lenses' (Errorproofing, Cognitive etc) so don't worry about them.
The free WebSort account I'm using for this only allows 10 participants, so be quick and get a chance of winning the book! Once 10 people have done it, I'll draw one of the participants out of some kind of hat or bucket and email you to get your postal address.
The purpose here (a closed card-sort, to use Donna Spencer's terminology) is, basically, to find out whether the pinball / shortcut / thoughtful models allow the DwI techniques to be assigned to particular ways of thinking about users – that make sense to a reasonable proportion of designers. There's no right or wrong answer, but if 80% of you tell me that one technique seems to fit well with one model, while for another there's no agreement at all, then that's useful for me to know in developing the method.
Thanks for your help!


Cover photo from Amazon