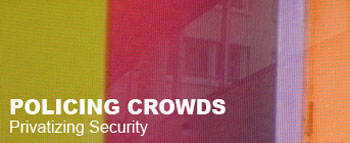 The Policing Crowds conference is taking place 24-25 June 2006 in Berlin, examining many aspects of controlling the public and increasing business involvement in this field – 'crime control as industry'. Technologies designed specifically to permit control and monitoring of the public, such as CCTV and many RFID applications, will also be discussed.
The conference takes as its starting point the techniques and policies being used to control and monitor the massive crowds currently descended on German cities for the World Cup, but extends this view into the broader implications for future society:
"The global sports and media mega event is also a mega security show. Essential part of the event is the largest display of domestic security strength in Germany since 1945: More than 260,000 personnel drawn from the state police forces (220,000), the federal police (30,000), the secret services (an unknown number), private security companies (12,000) and the military (7,000) are guarding the World Cup. In addition, 323 foreign police officers vested with executive powers support the policing of train stations, air- and seaports and fan groups. The NATO assists with the airborne surveillance systems AWACS to control air space over host cities. On the ground Germany is suspending the Schengen Agreement and reinstating border checks during the World Cup to regulate the international flow of visitors. Tournament venues and their vicinity as well as "public viewing" locations in downtown areas are converted into high-security zones with access limited to registered persons and pacified crowds only. The overall effort is supported and mediated by sophisticated surveillance, information and communication technology: RFID chips in the World Cup tickets, mobile finger print scanners, extensive networks of CCTV surveillance, DNA samples preventively taken from alleged hooligans — huge amounts of personal data from ticket holders, staff, football supporters and the curious public are collected, processed and shared by the FIFA, the police and the secret services.
…
Studying the security architecture and strategies tested and implemented at the World Cup is more than focusing on an individual event. It is a looking into a prism which bundles and locally mediates global trends in contemporary policing and criminal policies. Thus, we have chosen the context of the World Cup to outline and discuss these trends in an international and comparative perspective."
The sheer scale of this planned control is certainly enough to make one stop and think. It is, effectively, an entire system designed for the single purpose of controlling people within it.
If it's possible during a major event, it's possible all of the time. Not sure I want to be living near Heathrow come the 2012 Olympics in London.
Thanks, Jens.